The Wedding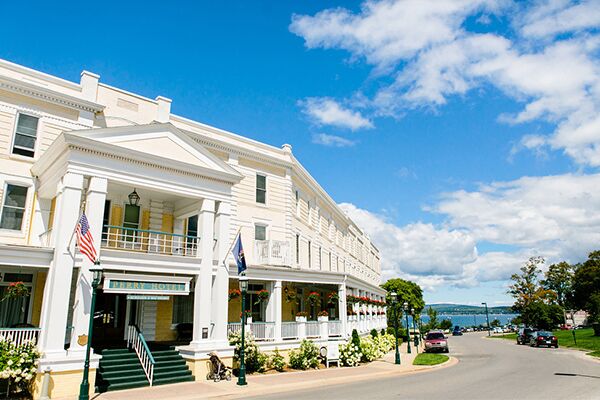 Saturday, August 18, 2018
4:00 PM
Attire: Cocktail
Ceremony and Reception
Stafford's Perry Hotel
100 Lewis St, Petoskey, MI 49770, USA
*keep the night going with us after the reception in the Noggin Room Pub located inside the hotel

Need a ride home?:
You can schedule Up North Rides to pick you up on Saturday night
231/350.1248
otherwise, we will have a taxi number you can call night of
We are so excited to celebrate in Petoskey with you all!
The weekend of August 18th is the Festival on the Bay downtown Petoskey. Due to the festival, there will be more traffic then usual and certain streets blocked in the city.
For those guest not staying at the hotel or within walking distance, there is a parking lot kiddie corner for the hotel that is available to park at. Street parking is also available, but be aware that due to the festival parking regulations may differ.
XO Ariana + Austin
Our Story
HOW WE MET and then some..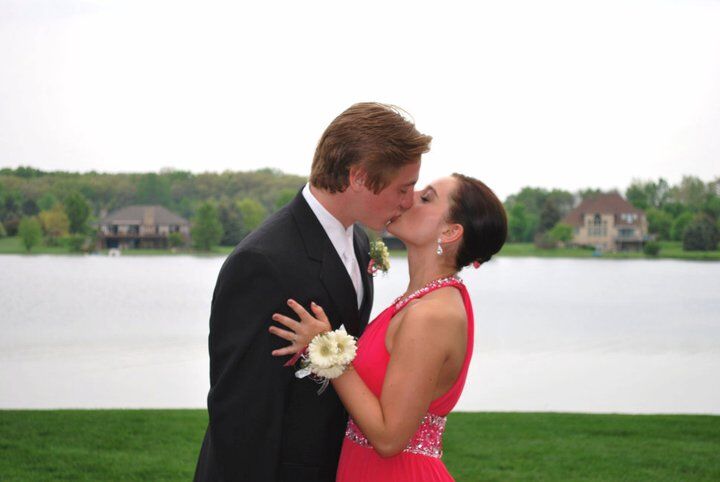 In February of 2010, we met while Austin was playing hockey for the USA NTDP in Ann Arbor. He was billiting with the Gross family and first met my mom at a neighborhood Super Bowl party. I was at an ACT prep class when after multiple multiple texts of pleading to let me leave early, she finally caved and said I had to come to the party right now! Come to find out, she had talked Austin's ear off and decided that I had to meet him.
A few weeks later, a dinner was planned to watch the Olympic Games opening ceremony so Austin and I could meet. Shortly after that we started to date...
The past 8 years together have been filled with so many different adventures! There were many trips to Alaska in the summer, awkward high school dates and also going off to college. I may hold the record for most road trips to Notre Dame to watch Austin's hockey games while I was attending MSU. We added a cute pup named Jax to our duo in 2015, lived together in Toledo and finally have settled down in Chicago!
We were able to share so many memories and parts of our relationship with friends and family over the years. Now, we get to celebrate the greatest memory of them all as we say I do with you by our sides.
THE PROPOSAL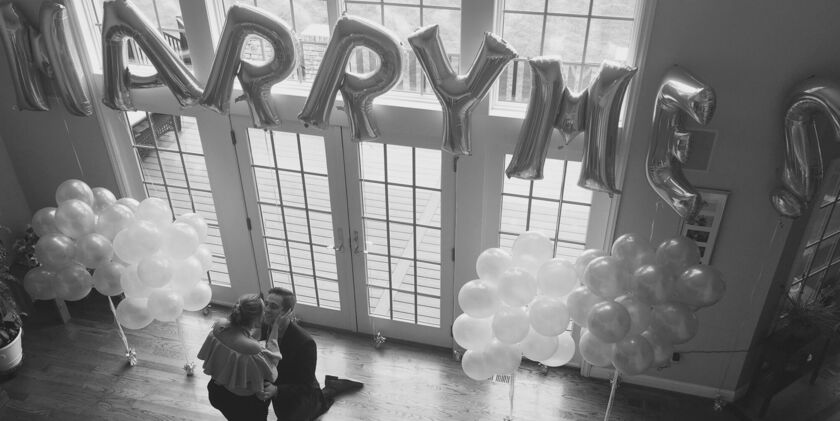 June 3, 2017 was a year in the making..the plan to propose to Ariana started last summer when I was driving to the Wellings house from Toledo. I was talking on the phone with my dad about wanting to ask Ariana to marry me in the following summer. With months of research and looking, it came time to set everything in motion.
In January I started to work with the jeweler and put together my proposal for that August. I took a trip home to visit my family in May, when Tony emailed and said the ring would be done in a just few weeks! It hit me, there was no way I could wait until August so I quickly shifted my plans and set my eyes on June 3rd.
Immediately I called Ariana's mom, best friend Emilee and talked with my mom and sister Morgan to plan the proposal. After 7 years together I knew I had to make it a surprise and wanted to include our families. With the help of Ariana's sister Kauri we narrowed down the day of events and nights celebration.
That Thursday, Kauri flew in to town because she was "celebrating her friends birthday". Friday morning I packed up my car in Chicago, went to work and drove straight to Saline that night. I turned off find my friends and Ariana had no idea I was in town actually staying at Emilee's house!
That morning Ariana, her sisters and mom went to Ann Arbor to get their nails done and go to lunch. Meanwhile... Emilee, Doug, Ryan and myself ran to the store to pick up 72 white and gold balloons plus HUGE gold balloons to spell out Marry Me? With lots of elaborate planning in between (and Ariana not catching on to ANY of it) we managed to get her back home and walk through the front doors. There I waited. Being built up with so much excitement and nerves, I wasn't able to stand still! Under the balloons, I watched her walk through the doors in complete shock! As her family stepped away to give us a moment, I got down on one knee and asked her to spend the rest of our lives together!
Wedding Party
Kauri Benner - Matron of Honor
Victoria Wellings - Bridesmaid
Morgan Wuthrich - Bridesmaid
Emma Wuthrich - Bridesmaid
Emilee Kaminski - Bridesmaid
Neeaz Khalatbari - Bridesmaid
Meghan Jahnke - Bridesmaid
Mia and Catie Orr - Flower Girl
Collin Schulte - Best Man
Hayden Wuthrich - Groomsman
Ryan Wellings - Groomsman
TJ Tynan - Groomsman
Friend
Steven Summerhays - Groomsman